Lifespider System™ is the next generation of coaching programs in the human being experience. A Lifespider System™ Coach is a Master of life that brings people into a new paradigm.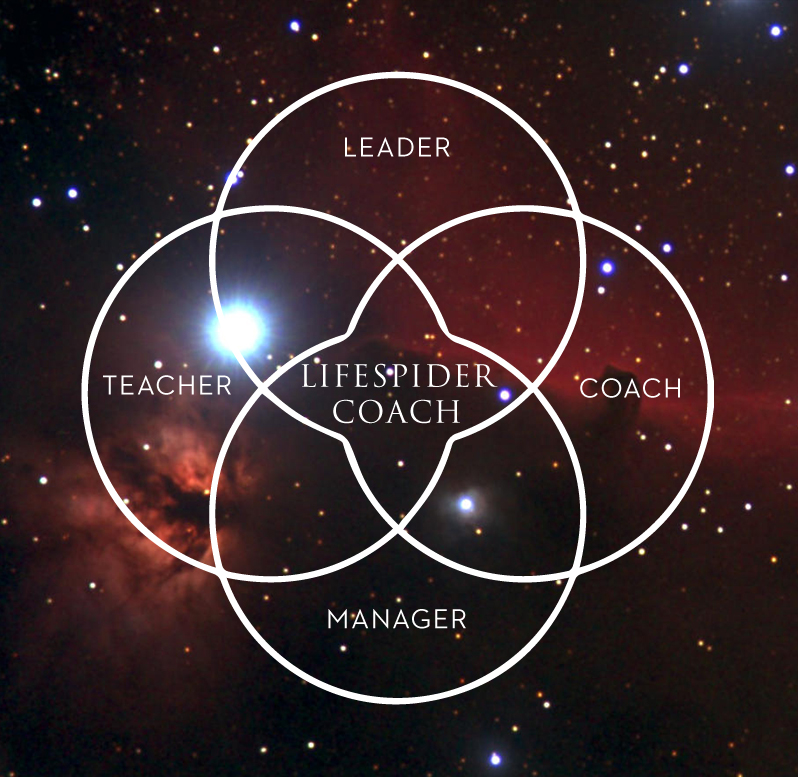 LifeSpider Coaching™ is an alliance of four different skills that are used to identify the building blocks in a LifeSpider™
THE LEADER – Who shows the way and is a role model.

THE COACH  – Who challenges and clarifies.
THE MANAGER  – Who takes command and give orders.
THE TEACHER  – Who educates and teach.

This trainee program is an advanced coach training for those who have had their own LifeSpider for two years or have proven that they are living by their own LifeSpider™. A LifeSpider Coach™ is a certified coach (or equally education) with more than 1.000 coaching hours. He needs to find the mission to be a LifeSpider Coach in their own LifeSpider™.
---
THIS TRAINEE PROGRAM IS FOR COACHES WHO HAVE THEIR OWN LIFESPIDER™ AND ARE WILLING TO BECOME A MAGNIFICENT AND AUTHENTIC LIFESPIDER COACH™ WHO STANDS OUT FROM THE CROWD.
---
As a LifeSpider Coach™ you have control of your own ego and energy source. You find your own confirmation in your own spider and outside the coaching session. You will  share from your own capacity and put aside your personal prestige and always assume that everything is possible for your client. You have a relationship with your client where the session is the relationship. Being able to create this kind of partnership it's not enough with great techniques. You must own the knowledge from the inside. That is why it is so important that a LifeSpider Coach™ use their own LifeSpider™ as the most important guide in their life.
---
AS A LIFESPIDER COACH™ YOU ARE AN EXTRAORDINARY COACH THAT MAKES YOUR CLIENTS SO AMAZED ABOUT THE JOYFUL AND QUICK RESULTS THAT THEY CAN'T RESIST REFERRING YOU TO OTHERS. 
---
TRAINING PEDAGOGY
LifeSpider System™ is a nonlinear system and you find similarities in our pedagogy with the 'Chaos Theory' which is one of a set of approaches to study nonlinear phenomena. Our goal during the training is to provide you with concise descriptions of the training underlying theory.
All training, theory and exercises are deterministic, in that current behavior is based precisely upon past states, even though future states are fundamentally unpredictable. LifeSpider System™ Coach Trainee Program might appear random, but is actually produced by a deep order underneath.
LifeSpider System™ Coach Trainee Program is a complex system that has multiple parts that interact in order to produce results that cannot be explained by simply specifying the roles of the various parts.
The hallmark of the trainee program is that it changes its structure to meet your demands that arise from outside circumstances or from changes within yourself. Emergence is another distinguishing feature of the trainee program, by which unexpected structure, pattern or process arises spontaneously between you and your environment.
Therefore, the final outcome of the training cannot be predicted, even with a thorough understanding of the elements in the LifeSpider System™. The outcome arises spontaneously, often unpredictably from nonlinear interactions among your different internal states and external conditions.

TRAINEE PROGRAM CONTENT
The Life Spider System™ Coach Trainee Program is a 8 month program with about 36 schedule teaching hours tailored for your needs and about 100 self study and spidering hours. After the trainee program you  are an authorized LifeSpider System™ Coach.
PART 1: PREPARATION – YOU ARE QUALIFIED TO BE AN CERTIFIED SPIDER COACH
A. Upgrading your spider.
The most crucial to become a LifeSpider System™ Coach in master class is that you live with your own spider. A continuous upgrading of your own spider makes you aware of the different levels found in the LifeSpider™ and you can be authentic with your spiders. Being a master LifeSpider System™ Coach means that you own the LifeSpider™ knowledge.
B. LifeSpider System Self Coaching Program.
The Self Coaching Program includes a transformation process in seven steps and everything you need to know about personal development. The program gives you strong support legs and a knowledge to understand your clients in several dimensions. The program helps you to separate what is 'spider coaching' and what belongs to your clients support leg. After the program, you can determine if your client is ready to spidering or if they need extra sessions of yourself or hire other expertise before continuing their spidering.
PART 2: TRAINEE PROGRAM – YOU BECOME AN CERTIFIED SPIDER COACH ON LEVEL 1
A. Essential LifeSpider Coaching Skills.
Here you learn the LifeSpider System™ Coach technique and you apply them on real clients. You receive checklists of questions that will help you prepare your clients spider legs. The theoretical parts are video sessions and documentation that you go through at your convenience. There will be questions on the theoretical aspects that you respond to when you want and at your own pace.
B. Live Sessions via Skype.
Live sessions every second week for  feedback on your spidering. We also work on your unique trademark and marketing strategy as a LifeSpider System Coach™.
INVESTMENT AND PAYMENT PLAN – GET PAYING CLIENTS DURING THE TRAINEE PROGRAM
Your total investment is $ 8.000 and you will have paying clients who will cover the most of this investment. 
A commitment fee of $ 1.000 payable at the start of the preparatory phase.
You will then pay $ 1.000 / month (starting when the trainee program begins).
Apply to become approved for the LifeSpider Coach Trainee Program by contact me for a
personal interview to find out if your are qualified. 

CERTIFICATION TERMS & CONDITIONS
Certification LifeSpider System™ Coach includes the right to translate/adapt/use the growing collection of intellectual property, forms and tools. The Authorization shall renew for additional one year terms at a fixed royalty rate in your agreement. The first year's  fee is included in the training fee. After you got approved for the training program you will receive all important information and details about the terms and conditions before you sign up and invest in the program.
A: Full certification for commercial use.
B: Limited certification (fewer than 10 clients/year).
C: Non Commercial/Nonprofit certification.
Should you decide not to renew your status as an Certified LifeSpider System™ Coach you can no longer use LifeSpider System™ with your clients and you have to remove all references to the fact that you are an Certified LifeSpider System™ Coach.