Your LifeSpider™ is your unique code with your driving forces, your life purposes linked to unique life projects. You are using your LifeSpider™ to create a partnership between your ego and soul and let them work as a team to realize your LifeProjects.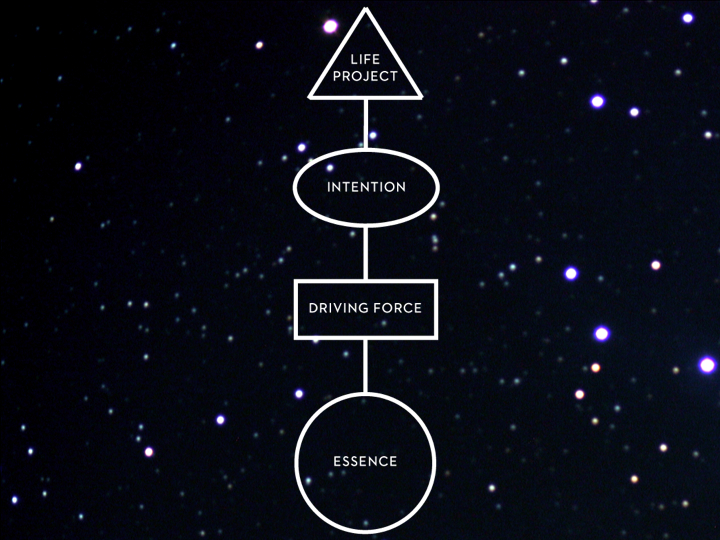 With the LifeSpider™ you will find again who you really are, what you do and where you place yourself to create conditions which avoid the need to compromise on your dreams. You will achieve what you want in all areas of your life.
Most people search for balance and harmony, yet they separate their lives into different boxes – career, family, friends, health, financial matters, personal development, spirituality, and so on. These disparate parts often compete with your time and energy, making your day-to-day-life a balancing act, which leads you to feel unsatisfied on many levels.
---
YOUR LIFESPIDER ™  IS YOUR FINGERPRINT THAT IDENTIFIES YOUR UNIQUE IDENTITY. 
---
Your LifeSpider™ helps you sort out what your essence is and what driving forces you have. It clarifies your  life purposes and how they are linked to unique life projects which combine your visions with concrete activities.
Your LifeSpider is a portal into the realm of possibility, which provides you access to the evolution of the new paradigm. It assists you in transforming the energy of frustration and channeling it into a new and creative direction. Your LifeSpider™ gives you the information you need about yourself to start exactly where you are, right now. No extra preparation is needed. You only have to begin.
---
IF YOU ARE READY TO FIND YOUR TRUE PURPOSE, STEP OUTSIDE THE BOX AND JUMP INTO NEW DISCOVERIES…keep on reading.
---
Your LifeSpider gives you the code to your unique identity and you only have to do it once in a lifetime. Once you have identified your LifeSpider™ you will have the answer to the question: What is the purpose of your life? You just not receive one purposes…But actually six! Each of those purposes is connected to their very specific Life Project that shows you what to do to achieve personal and professional success.
Find your life purpose: do you recognise yourself in these questions?
Are you frustrated with having too many projects and having trouble focusing?

Do you think you have to live the life you have now, even if you're not satisfied?

Do you feel that your potential is not fully utilized?

Do you think you are stuck and will not go on in life?

Do you lack vital energy, goals and visions?

Are you thinking about what to do next?

Are you frustrated about the surroundings trying to control you?

Are you tired of struggling to get what you want?

Do you want to be seen for who you are and what you can do?

Do you feel you have something to give to others but not sure how to express it?

Do you long to be free from what has control over you?
---
THIS IS THE TURNING POINT WHERE YOU CAN DESIGN YOUR LIFE FROM THE FOUNDATION OF YOURSELF THAT GIVES YOU A FAIR CHANGE TO GET THE LIFE YOU ARE LONGING FOR.
---
HAVE YOU EVER WONDERED….

How it would be to …
knowing your true purpose in life?

having the answer to the question what your next step is?

avoiding situations that require that you do things you dislike?

What would happen if …
there was nothing that held you back?

you where sure about what you would do?

you knew what your personal motivations were?

How it would feel to …
holding the key to your own happiness?

having a life project that is larger than you?

be a happier, stronger and more efficient version of yourself?

What it would mean if you …
could allocate your resources on what really matters?

had a future magnet that increased your life energy and zest for life?

integrated a spiritual perspective to your daily life?
---
LIFESPIDER SYSTEM™
 BRINGS OUT THE CODE OF YOUR UNIQUE IDENTITY THAT RELEASE THE BETTER AND MORE POWERFUL VERSION OF YOURSELF.
---
A LIFESPIDER™
 HAS THE SAME EXPANDING POWER FOR EVERY INDIVIDUAL ON THIS PLANET.
A LifeSpider™ works for everyone regardless of position, occupation, age, money or relationship. It does not matter where you live, how you spend your time, your health, what culture you grew up in, etc.  LifeSpider™ takes no account of external conditions such as education, language, childhood experiences, past perceived failures or circumstances that you're surrounding condemn.

YOUR LIFESPIDER™
 HELPS YOU TO COMBINE THE DETAILS OF EVERYDAY LIFE WITH A SPIRITUAL PERSPECTIVE. 
With your LifeSpider™ you will have a constant current  life coach and mentor, it's easy to actively reach new levels of awareness, the courage to stand up for yourself, realize your dreams and enjoy more of your life. Your LifeSpider™ helps you to integrate all aspects of yourself and allow your driving forces to formulate your Life Project.

Your LifeSpider™ gives you a wider perspective of your existence. It gives you a perspective which eliminates the contradictions between inner and outer happiness of success. After you have identified your LifeSpider™ you will find a deeper meaning in life and you will be able to integrate your professional goals with your life goals.


ONCE YOU HAVE INTEGRATED YOUR LIFESPIDER™
 IN YOUR LIFE, YOU WILL:
Grow and become the most efficient, strongest and beautiful version of yourself.

Create your career, friends, relationships, health and economy that fit your life.

Duplicate yourself and achieve balance in life by focusing on several life projects.

Design your activities so that they go in line with your true, authentic and genuine self.

Live from the meaning of your life and be successful every day.

Release your potential so your unique abilities will help others in their progress.

WHAT HAPPENS IF YOU DO NOT IDENTIFY YOUR LIFESPIDER™
?
In a life without your LifeSpider™ you will continue to question if you really are on the right track, if you should be doing something else.
In a life without your LifeSpider™  you will still be in the game of 'trial and error' and experience disappointment, frustration, confusion and costs you time and money.
In a life without a LifeSpider™ it's more difficult to make satisfying decisions when you are facing challenges and change.
In a life without a LifeSpider™ it's very likely that you'll let people, old values and the environment continuing to restrict and control you.
---
THE DIFFERENCE BETWEEN HAVING YOUR LIFESPIDER™
 OR NOT? FREEDOM, PASSION AND CREATIVITY OR CONTINUING TO EXPERIENCE LIFE AS A STRUGGLE.
---
YOUR INDIVIDUAL LIFESPIDER™
 HAS A POSITIVE IMPACT ON THE WORLD AT LARGE
Once you have identified your LifeSpider ™ you're not longing to become someone else, you just want to become more of yourself to manifest your Life Project. This means that three side-effects will occur that make this world to a better place.
COMPETITION DISAPPEARS
CONSUMPTION DECREASES
COMPASSION INCREASES
---

GROUP OR EXCLUSIVE DESIGNED PROGRAM
During the LifeSpider™ Coaching Program, we create your LifeSpider™. The theoretical parts you need will be managed before we meet so that you can get the absolute optimal outcome of the LifeSpider Coaching™ sessions. It is important that your first version of your LifeSpider™ become complete and your LifeSpider Coach™ will help you through the process, step by step.
After the program you have your individual LifeSpider™ which means you got your life code written on paper. Your LifeSpider™ contains  your six driving forces, six intentions, six life project and your essence.
As a LifeSpider™ you also become a member of LifeSpider System™ Community LifeSpider Galaxy.
LIFESPIDER™ COACHING FOR INFLUENTIAL PEOPLE
Do you have almost everything the world can give but you still have a feeling that something is missing?
LIFESPIDER™ COACHING FOR INDIGO PEOPLE
Are you an Indigo? Do the test and find out if you are qualified for the program