Advanced Coach Training for you who are urgent to become a magnificent coach who stands out from the crowd.

Coaching is a powerful bridge for humans into the new paradigm, and as a coach you have huge importance in this work. We assume that you are prepared to contribute to the evolution in the Human Being Industry. This means that your own development is no longer just about you. As a Certified Self Leadership Coach you are not just developing your coaching skills. You are …
Expanding your personal power.

Creating your own success.

Gaining the capacity to reach out.

Contributing to the evolution of our world.
---
THE SELF LEADERSHIP COACH TRAINING INCLUDES THE COMPLETE COACHING CONCEPT READY FOR YOU TO USE.
---

THE SELF LEADERSHIP COACH TRAINING IS FOR YOU WHO WANT TO BECOME A COACH OR ALREADY IS A COACH WHO;
Wants something new, unique and extraordinary but feel frustrated because you cannot figure out what it is.

Has reached a level where you appreciate your life and are humble enough to know that there is more out there for you and your clients.

Is looking for a way to balance spiritual and physical elements into your coaching to reach change faster, easier and with less pain for your clients.

Knows you have an important role in the Human Being Industry.

Wants clients to reach beyond an ordinary success, making them so satisfied about the quick and amazing results that they just have to refer you to others.
THE CERTIFIED SELF LEADERSHIP
COACH PROGRAM
---
TRAINING PEDAGOGY
LifeSpider System™ is a nonlinear system and you find similarities in our pedagogy with the 'Chaos Theory' which is one of a set of approaches to study nonlinear phenomena. Our goal during the training is to provide you with concise descriptions of the training.

---
The training is concerned with the effect of one state on another. All training, theory and exercises are deterministic, in that current behavior is based precisely upon past states, even though future states are fundamentally unpredictable. LifeSpider System™ Self Leadership Coach training might appear randomly, but is actually produced by deep order underneath.
LifeSpider System™ Self Leadership Coach training is a complex training that has multiple parts that interact to produce results that cannot be explained by simply specifying the roles of the various parts.
The hallmark of the training is that it changes its structure to meet your demands that arise from outside circumstances or from changes within yourself.
Emergence is another distinguishing feature of the trainee program, by which unexpected structure, pattern or process arises spontaneously between you and your environment.
Therefore, the final outcome of the training cannot be predicted, even with a thorough understanding of the elements in the LifeSpider System™. The outcome arises spontaneously, often unpredictably from nonlinear interactions among your different internal states and external conditions.
---
CONTENT BLOCKS
A critical factor in determining a coach's effectiveness is how competent that coach is in developing an extraordinary partnership with the client. And this extraordinary partnership can only be developed if the coach is a master on her/his own life.
---
Our goal is that you will own the knowledge about the human beings thoughts, feelings and behavior not just learn technical coaching skills.
We want you to able to create lasting changes and make better choices for a life in authenticity and alignment both for yourself and your clients.
The training contains four main building blocks.
1. SELF LEADERSHIP
2. COACHING CONDITIONS & COMPETENCIES
3. MARKETING & SALES
4. COACHING WITH REAL CLIENTS
---
1. SELF LEADERSHIP
Expanding your personal power.
The Self Coaching Program is a Self Leadership Transformation that enable your personal power and potential. You will be aware about your importance in a bigger perspective and it will be obvious for you that you are meant to empowering others in their development.
---
1.A: SELF COACHING PROGRAM IN 8 MODULES (see appendix)
The program delivers reality-based tools, methods, exercises and strategies to both discover what you want to change and how to implement the changes. Each session provides you with insights and strategies that are immediately evident and moves you to a new version of yourself.
Those tools are also something you can and will use to help your clients to make their changes. The program ensures that you shape both your and your clients life in the way you want.
The secret to each session is that you are going through a transformation process in seven unique step based on universal truths. The process reveals your limited beliefs and values which lead to several breakthroughs and achievements.
1.B: THE 9 LIFECOMPETENCIES
The LifeCompetencies is a classification and management system that categorize the professional skills required for coaches to reach extraordinary success in The Human Being Industry.
LifeSpider System Coach Training teach you how you to translate philosophy, spirituality, and science into a transformation process that changes you and your coaching clients life as a whole, starting from The LifeCompetencies.
The Lifecompetencies gives you precision in your core Lifecompetencies and enables you to grow as a radiant professional coach to the next unknown level.
Much like the operating system on a computer, the Lifecompetencies is an operating system for your life. It can run quietly, yet powerfully, in the background or be called into action at a moment's notice. It works with the ―hardware (your body, mind, and spirit) that you already have in place. It interfaces with all the other ― applications (spirituality, philosophy, science, religion, physiology, etc.) that are installed in your life, and helps them run at their optimum performance. It is an efficient way for you to manage and work with the various ―files you have created (relationships, projects, beliefs, circumstances), whether they are active or archival. It can assist you in regulating how your system energy is allocated and used.
And finally, it is an effective maintenance tool, troubleshooting problems, deflecting damaging input, and keeping your hard drive in top working order.
---
2. COACHING CONDITIONS & COMPETENCIES
Creating your own success.

To develop an extraordinary partnership with the client you must leave your own agenda completely behind and only focus on the client's best. It is not your purpose to move the process in a certain direction. It is only to change what is needed to facilitate the client's values, attitude and activities.
---
The Lifecompetencies secure that your focus is only on the client's own needs and wishes. The goal is that you authentically trust that your client has the ability and capacity to become his or her own best leader, master, and advisor.
LifeCompetencies gives you control of your own ego and energy source. If you already have your LifeSpider™ The LifeCompetencies helps you to stay on track and expand your LifeSpider™. You always assume that everything is possible for your client. You have a relationship with your client where the session is the relationship.
LifeSpider Systems coaching conditions & competencies (built in the 9 LifeCompetencies) gives you precision in your coaching core competencies and enables you to handle things other coaches cannot. Our core coaching competencies are compatible with ICF:s (International Coach Federation) core competencies.
---
THE 9 LIFECOMPETENCIES
CONDITION: The direction you are working towards to reach success in your and your client's life.

COMPETENCE: This is the core coaching competencies your are developing to use.
ABILITY: This is what you develop in the Self Leadership Coaching Program to make you capable to apply the technical coaching skills.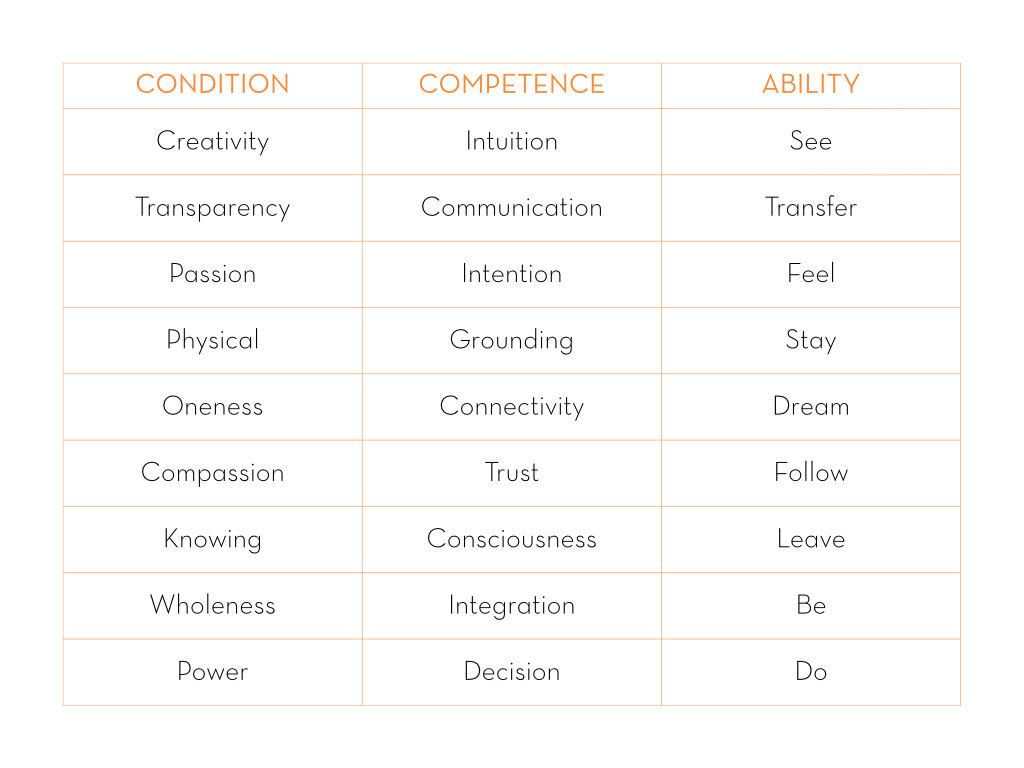 ---
3. MARKETING & SALES

Gaining the capacity to reach out.
It doesn't matter if you are a great Self Leadership Coach and have invested in building your coaching skills if you can not make it work from a business perspective. The most important factor to reach success – in any business – is your passion, your true purpose. And your purpose needs to be communicated to your perfect client. Your messages needs to be clear that your coaching is more valuable than the coaching of other coaches in your nisch.
---
Therefore this training includes four areas of marketing and sales.
1. IDENTIFY YOUR PERFECT CLIENT
The number one solution to be successful and get as many clients as you want is to define your perfect client. When you know who your favorite client is you can refine your marketing messages. Identifying your perfect client is connected to your purpose and the reason why you want to become a Self Leadership Coach.
When you do what you love and your intention is followed by action, people will be drawn to you and you will always find new ways to reach out. It's only when you build your business on your true purpose you will get referrals from friends and colleagues, and your clients will also fill your practice for you.
2. POSITION YOURSELF AS AN EXPERT
As a Self Leadership Coach you will become an authority in the eyes of your clients. Therefore this training will help you to bring in all your expertise and experience to drive your business to success. During the training you will create a presentation and a bio where you present yourself as an expert for the client you choose to be your 'perfect' client. Your clients want to be assured you are the best coach they can get and therefor your story is as important as your professional expertise.
3. CREATE YOUR MARKETING STRATEGY
When you know your passion, who your perfect clients are and have your area of expertise in place it's easy to begin building your brand around it. You will create a marketing strategy where you can communicate your uniqueness.
In this block you will also elaborate on your own concept and programs. Your self-designed program makes it easier for you to sell and create a marketing-system that is in alignment with your own authentic lifestyle.
4. USE YOUR COACHING SKILLS IN THE SALES PROCESS
This block is the is the first step to get rid of the fear of selling and how to use your coaching skills to get more clients. As a Self Leadership Coach you know exactly what kind of questions you have to ask to get a client to be aware of their wishes. Your coaching questions will show them that you are the perfect coach to help them solve their problem and make them get to where they want to be.
We are using a powerful tailored sales process for coaches that helps you take concrete action toward your sales and performance goals. You will design your sales activities so they fit your desired lifestyle.
---
4. COACHING PAYING CLIENTS
Contributing to the evolution of our world.
One hallmark of the Self Leadership Coach Training is the experimental learning and is a crucial part of your learning process. This means that the theoretical parts are built upon your own experience with your clients. The learning builds and develops with further reflection and experience (se more our pedagogy). Your own experiences as well as the other students experiences gives you the opportunity to consider what is working or what you have to change.
---
Observation and reflection on your own coaching increases several of the core coaching competencies. Furthermore you will gain a better understanding of new knowledge and reach the level where you own the knowledge.
Besides that we are doing a lot of live coaching during our sessions you will acquire 8 clients on your own. You will deliver a high value for your clients so it's only the two first clients you can offer your coaching for free.
To have paying clients is an important part in building your marketing strategy and improving your sales technique. It will also give you a taste of your future success a certified Self Leadership Coach and help you finance your training.
---
YOUR INVESTMENT
Your investment for the Self Leadership Coach Training is $3995
You will pay a non refundable commitment-fee of $800USD when you are signing up. This fee will give you access to the Self Coaching Program and other self study material.
The rest of the total fee of $3195 has to be paid one week before the training starts.
---
SCHEDULE
TRAINING HOURS
Self-Studying 18h
Schedule live classes 32
Mentor Coaching: 6h
Coaching Clients: apx 64h
STEP 1: PREPARATION – MONTH 1-2
1. Self-studying of the Self Coaching Program (1 session every fourth day).

2. Two Skype sessions/month with focus on your own development.
STEP 2: EDUCATION & COACHING MONTH 2-8
1. 2 Skype session/month focusing on the coaching conditions, coaching competencies and marketing. 24h
2. 3 individual mentor coaching occasions with your instructor at any time when you need/want it the most during the training.
3. Coaching with your own clients between our sessions.
If you haven't already got your coaching business you will receive some recommendation how much you should charge your clients for 8-10 coaching sessions. Of course you are free to set a what price you want but with our recommendation you will finance your training with profit.
---
CERTIFICATIONS
TERMS & CONDITIONS
CERTIFICATION REQUIREMENTS
1. Finished the self coaching program.
2. Answered the theoretical questions in the self coaching program.
3. 75% participation in live sessions.
4. Submitted 3 recorded coaching sessions.
5. Proved 8 coaching clients.
6. Submitted 2 testimonials from your clients.
RENEWAL OF YOUR CERTIFIED STATUS
LifeSpider System Certified Self Leadership Coach™ includes the right to use the growing collection of intellectual property, forms and tools. You also have the right to use the LifeSpider System logo on your web and marketing material. Starting from year two the certifications shall be renewed yearly at a fixed royalty rate at $225/year. The first year's fee is thus included in the training fee. Your royalty fee includes a membership in LifeSpider Galaxy Gold with access to continuous access to support and learning.
You have also the right to sell the Self Coaching Program and receive 50% commission of the actual market price.
If you would decide to not renew your status as an Certified LifeSpider Self Leadership Coach™ you can no longer use LifeSpider System™ with your clients and you have to remove all references to the fact that you are an Certified LifeSpider Self Leadership Coach™
APPLICATION TO BECOME A CERTIFIED SELF LEADERSHIP COACH
Your first step is to send me an e-mail and let me know why you want to become a coach. Than I will contact you and schedule a meeting via Skype to make sure this is the right training for you.
Click here and send me an e-mail now because I do looking forward to hear from you.

OBS! Number of students for each Self Leadership Coach Training is limited to five.